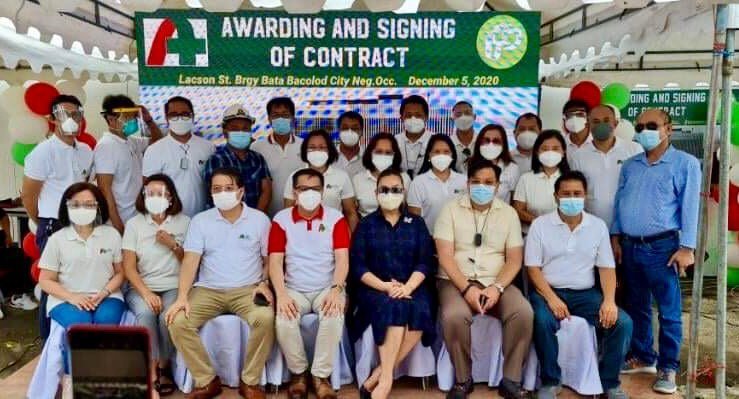 Mayor Evelio Leonardia is confident that the forthcoming construction and operation of a new multimillion-hospital in the city called Allied Care Experts (ACE) Medical Center Bacolod will further expand the city's access to quality healthcare.
"This new hospital is going to help improve the healthcare capability, lifestyle, and landscape of Bacolod," Leonardia said in a press release today, December 8.
Leonardia was among the officials who led the hospital's groundbreaking ceremony in 2017.
On Saturday , City Administrator Em Ang represented Leonardia to witness the awarding and signing of the contract for the construction of the hospital between the founders of ACE Medical Center, led by its president and chairman of the board, Dr. Ferjenel Biron, and its Manila-based contractor.
Seen to generate more jobs for locals, the hospital is expected to fully operate in less than 24 months, the press release said.
The hospital is located in a one-hectare property in Barangay Bata. It will have 250 beds distributed between its two buildings – one with seven storeys and the other, with five storeys – that will be connected by a bridge.
ACE Medical Center Bacolod is the 23rd hospital of the ACE Chain of Hospitals, which is accredited by the Joint Commission International (JCI), an international hospital accreditation body known for its Gold Seal of Approval. There are only five hospitals in the Philippines that are accredited by JCI.
Considering that ACE Medical Center is a giant in the healthcare industry, having one in Bacolod is "flattering" and a great blessing for the city, Leonardia added.
The founders of ACE Medical Center are physicians from Bacolod, Manila, and Iloilo. Despite being "state-of-the-art," the hospital promises to "offer excellent health care services in an affordable, patient-oriented approach."
REVITALIZE THE ECONOMY
For her part, Ang said the operation of the new healthcare facility will help "revitalize" the economy of Bacolod.
"This is great news in this time of the COVID-19 pandemic. We need stimulus that can revitalize our economy here in Bacolod.
"This (ACE Medical Center) will pump prime the economy because of the amount of the investment and the local manpower needed for the construction of the hospital," the city administrator said.
She added: "Before COVID-19 came, Bacolod was growing at a really fast rate. We have been winning award after award for competitiveness, for business-friendliness, for good governance, etc. Our economy was robust and growing very rapidly…I'm sure that if there was no COVID-19, we should already be seeing this hospital standing now."*