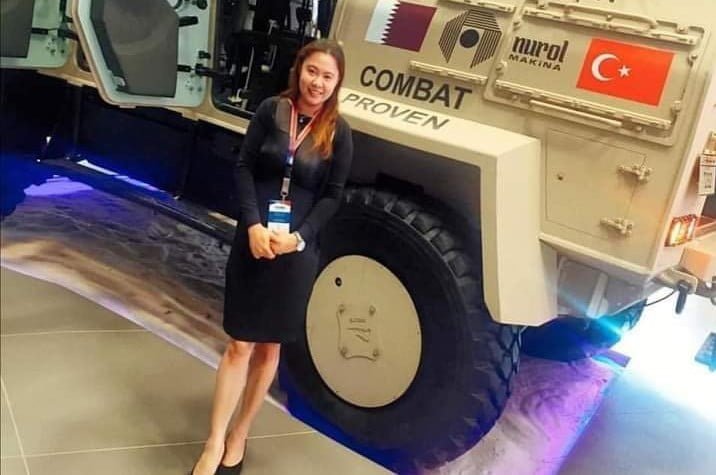 A businesswoman from Bacolod City this week was the first Filipina to win the prestigious Qatar Woman Leader Award in recognition of her contributions to the Middle Eastern country's economy.
Clairevee "Aya" Gamboa, who has founded several businesses in the Middle East, was presented the award virtually by CMO Asia, at the World Women Leadership Award Congress and World Marketing Congress in Qatar.
Gamboa, who has been in Bacolod since the COVID-19 pandemic broke, thanked the award-giving body for recognizing her contributions to Qatar's economic diversity by "advancing a world-class hospitality, brand creations, business development" and her contributions to its "national security during its time of challenges".
"Being the first Filipina consultant in the Middle East to be recognized, this award is not only for me but also goes to every Filipino men and women around the world who see opportunities amidst unforeseen adversities. Let us lead, rise and celebrate this success together," she said.
Gamboa, 37, studied Hotel and Restaurant Management at La Consolacion College Bacolod and International Hospitality Management at Everest University in Orlando, Florida, and took courses on negotiations and conflict management at Harvard Business School online.
She returned to Bacolod in March on a business trip and was unable to leave when the COVID-19 pandemic broke out.
To help in the effort to curb the spread of the virus she has been distributing face masks to policemen, vendors, drivers, and hospitals in Bacolod, she said.
She has also donated grocery packs in squatter areas in Barangay Mansilingan, Bacolod City.
Among the businesses she founded or supported are the Auction House Café in Katara Village, Café Blue at Bluesalon, Caviar Fine Dining Restaurant in the Dubai Mall, Gourmet Concepts in the Kingdom of Saudi Arabia, United Arab Emirates and Bahrain as well as French Bakery at Pearl in Qatar, among others, a press release said.
She has also overseen luxury brand acquisitions in the field of hospitality business, retail, and distribution, it added.
Gamboa has also helped foster socio-economic partnerships among countries, and contributed to Qatar's national security through contracts acquisition and research and development when the emirate was subjected to a controversial blockade from its neighboring countries, the press release said.
She began her business ventures at 19, and received the "Gallup Exceptional Award" in 2006.
Gamboa recently co-founded Forma International, a business consultancy firm, in Bacolod that has expanded its international presence in Qatar, Canada, Japan, and Turkey.*