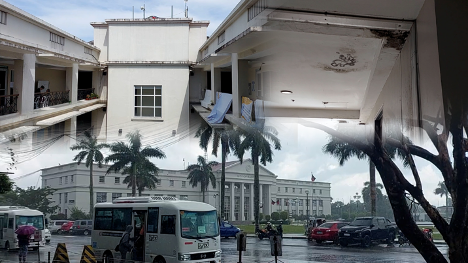 Sang Hulyo lang natapos ang pagpakaayo sangg Mayor's Office pero naghalabok na ang wooden planks sa sulod sang bag-o kaayo nga opisina.
Makit-an man liwat ang mga trabahador nga masako pa nga nagakaayo sang kisame. Suno kay Mayor Albee Benitez naguba ang salog sang ginbaha ang opisina sang tinalikdan nga pag-inulan sang Agosto.
May warranty ang pagkaayo sang Mayor's Office nga gingastuhan sang kapin P16 milyon. Gani ang contractor naman sang proyekto ang magasalo sang gasto sa pagpakaayo. Nakay-o naman sang contractor ang naguba nga salog.
Madumduman nga ang alkalde ang personal nga nagsalo man sang gasto sa pagpakaayo sang Mayor's Office agud makay-o ang mga public comfort rooms sa siudad.
May plano naman ang Office of the Building Administrator nga mapakaayo ang mga bahin sang BCGC nga nagakinahanglan na sang repair nalakip na diri ang mga kisame kag atop nga may guba.