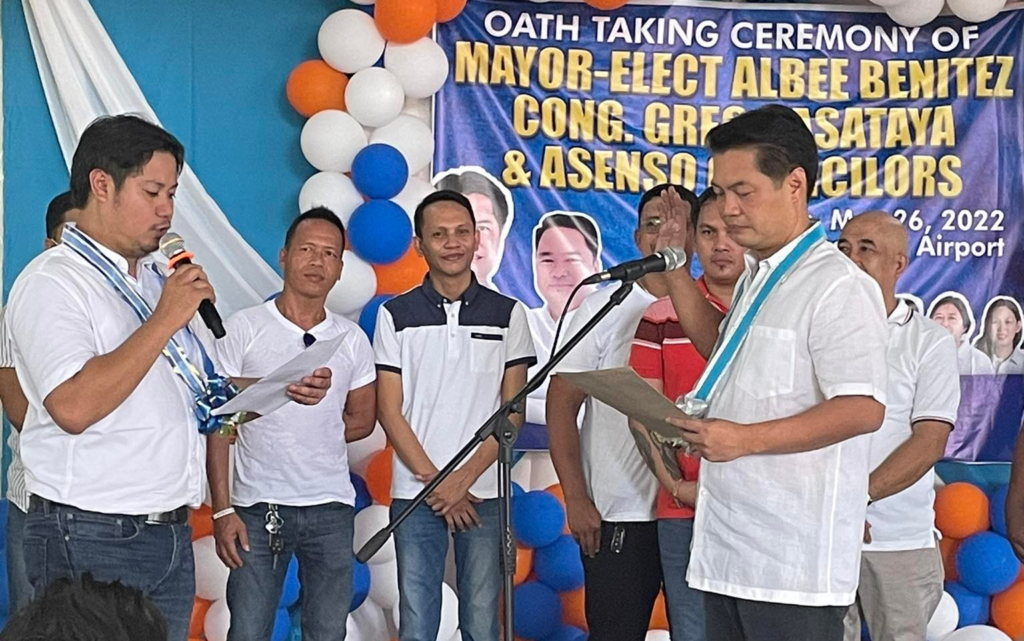 "Good is not good enough, we will do all we can to exceed people's expectations" in the service of Bacolod.
That was the promise of mayor-elect Alfredo "Albee" Benitez who took his oath as the new chief executive of Bacolod City at Barangay Singcang Airport on Thursday, May 26.
They will bring change to Bacolod that will be "more than good, it will be the best", Benitez said.
Benitez said he will "make sure all incumbent elected officials and all government employees go the extra mile to give the service Bacolod deserves".
Benitez, Bacolod Rep. Greg Gasataya and councilors-elect Vladimir Gonzalez, Jason Villarosa and Simple Distrito took their oaths before Singcang Airport Barangay Captain Rosinie Distrito.
Benitez said they took their oaths at Singcang Airport to thank the residents for giving him his biggest winning margin in the May 9 polls.
He garnered 10,691 votes in Singcang Airport while Bacolod Mayor Evelio Leonardia had 5,029.
Benitez won as mayor with 171,893 votes against Leonardia who had 107,447 votes.
Their formal oath taking with the rest of the winning officials of the city will be on June 27, he said.
In his speech at the oath taking rites, Benitez said our promise to bring change to Bacolod City has started.
They have gone around the city and have started work, he said, as he reiterated his plan to repurpose the P800 million allocated for a Bacolod coliseum for the improvement of the Central, Libertad and Burgos markets.
"If I can stop building the coliseum, I will. I will prioritize the markets and the other needs of Bacolod before the coliseum," he said.
Benitez said it is a good thing Gasataya has sourced funds for a Bacolod hospital, otherwise he would also prioritize that.
Talks have also began for the removal of "spaghetti lines" from electric posts, he said.
He is also creating a Truth Commission to review previous transactions of the city government in the spirit of transparency and to give the new administration a starting point.
Benitez said he has yet to pick the new city administrator and other key officials, which will be done on the basis of qualifications and commitment to service.
Benitez, who expects the election protest of Leonardia to be dismissed, said "Let's move on. The elections are over, there is much work to be done."
Gasataya said he and the other former Grupo Progreso members who decided to join Benitez went through a lot of difficulty while they were with the other group.
"But when we decided to join and support mayor Albee I know that we made the right decision not for ourselves but for you and the entire city of Bacolod," Gasataya told the Singcang Airport crowd.*