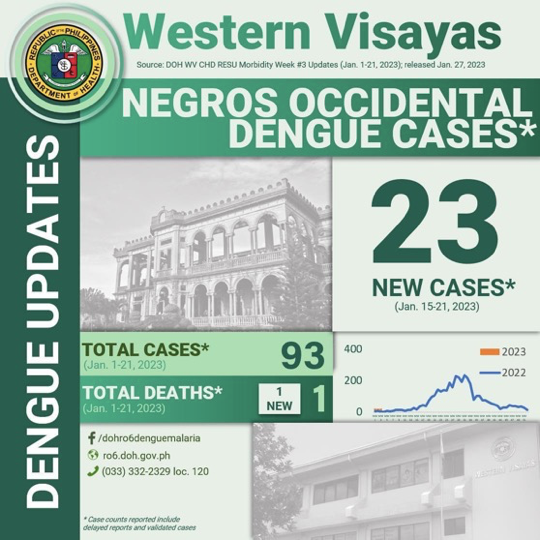 Negros Occidental naka record sang pinaka una nga dengue fatality.
Ini man ang pinaka una nga dengue related death sa Western Visayas. 
Sa record sang Regional Epidemiology and Surveillance Unit  isa ka pito ka tuig nga bata nga babaye ang gin report napatay bangud sang dengue as of  January 21, 2023.
Sa Morbidity Week 3 ukon Jan 15 to 21 Ang Negros Occidental ang nagapanguna sa kadamuon sang new dengue cases nga na record.
Sa karon ang may 93 ka total dengue cases ang Probinsya sandig sa report.
Sa Morbidity week 3, ang Aklan ang nagasunod sa Negros Occidental sa kadamuon sang new dengue cases – 21, kag ikatlo ang Iloilo Province nga may 20 new dengue cases. Ang Western Visayas  nag-record sang 326 ka dengue cases as of January  21.
Kun ipaanggid sa kasubong nga tion sang 2022, 138 percent ini nga mas mataas. Padayon ang abiso sang DOH nga pamatukan ang dengue paagi sa matinlo nga palibot kag temprano nga pagpakonsulta kun makakita sang senyales sang dengue sa natungdan.
Suno sa DOH makit-an sa una nga tatlo ka semana sang tuig ang pagsaka sang kaso sa bilog nga rehiyon.